Romantic Scottish Castle Wedding – Nicola & Scott
Oh, do I have a lovely wedding to share with you today! Nicola and Scott's beautiful wedding combined the fairytale magic of a Scottish Castle with an intimate wedding celebration for close family and friends. The beautiful Bride chose a bespoke wedding dress with a lace bodice and full satin skirt and paired it with our vintage 'Lottie Elliot' lace wedding boots for the ultimate elegant bridal look. We just loved the look on Nicola's gorgeous daughter's face when she saw her Mum ready to walk down the aisle (too adorable)! And who can resist a dapper Groom in a traditional Scottish Kilt? Their wonderful photographer Anna Urban also took the most lovely photos of Nicola getting ready in the cutest satin robe. Taking the time to do this is so wonderful as it gives you a quiet moment to soak in the anticipation of the day to come and capture all the lovely details which will be part of your wedding day. A big thank you to Nicola and Scott for sharing their wedding story with us and wishing them all the very best on their journey together.
Wedding Wishes and Love As Always,
Nicole xx
So how did you meet your husband and how did he propose?
We met in 2002 when we were both working as designers in a publishing company in Glasgow. We both were in other relationships but sparked a chemistry straight away and were good friends until I left the company three years later to pursue a career as a freelancer. We didn't see much of each other until 2007 when we met at a mutual friends party. Both being single at this point and with the chemistry and friendship still there, Scott asked me out on a date and we've been together ever since. We welcomed our first daughter Isla in 2012 and our second daughter Lily in 2016 and in 2018 while on holiday in Marbella, Scott surprised me and got down on one knee and proposed.
Where did you get married and who did you invite?
We got married on the 21st of July 2019 at the Glenskirlie Castle in Central Scotland. We had a small ceremony during the day with 32 guests and 60 guests for the evening celebrations.
What was the main inspiration for your wedding?
We didn't have a theme, everything seemed to fall into place during the planning process. We decided on our venue first, then I went dress shopping. I let my bridesmaids choose their own dresses, it was important to me that they were comfortable and happy with a style and colour that suited them, in the end, both bridesmaids chose the same dress. For my flowers, I went for white and mauve roses with eucalyptus and gypsophila. Scott's mum was an artist and sadly has passed away, so we took one of her paintings and incorporated it into our menus and place settings, which made it very personal to us.
Tell us about your wedding look
I was originally looking for a Boho style wedding dress, but after trying on various styles I was even more unsure of what I was looking for. While searching online I found a dress by Demetrios that was completely different to anything I had seen before. I went to the bridal shop and asked to try it on, I fell in love with it, but unfortunately, it had been discontinued. I decided to buy the sample dress and took it to a dressmaker who took my ideas (she removed the long sleeves and opened up the back) and turned a beautiful dress into an amazing dress.
What made you choose a pair of House of Elliot boots for your wedding day?
I love boots, my everyday footwear is boots… ankle boots, trainer boots, slipper boots. So there was no doubt that I'd be wearing boots on my wedding day. When I discovered House of Elliot I knew their boots would be a perfect fit with my dress. I was not wrong, they looked amazing, super comfy and had everyone talking about them.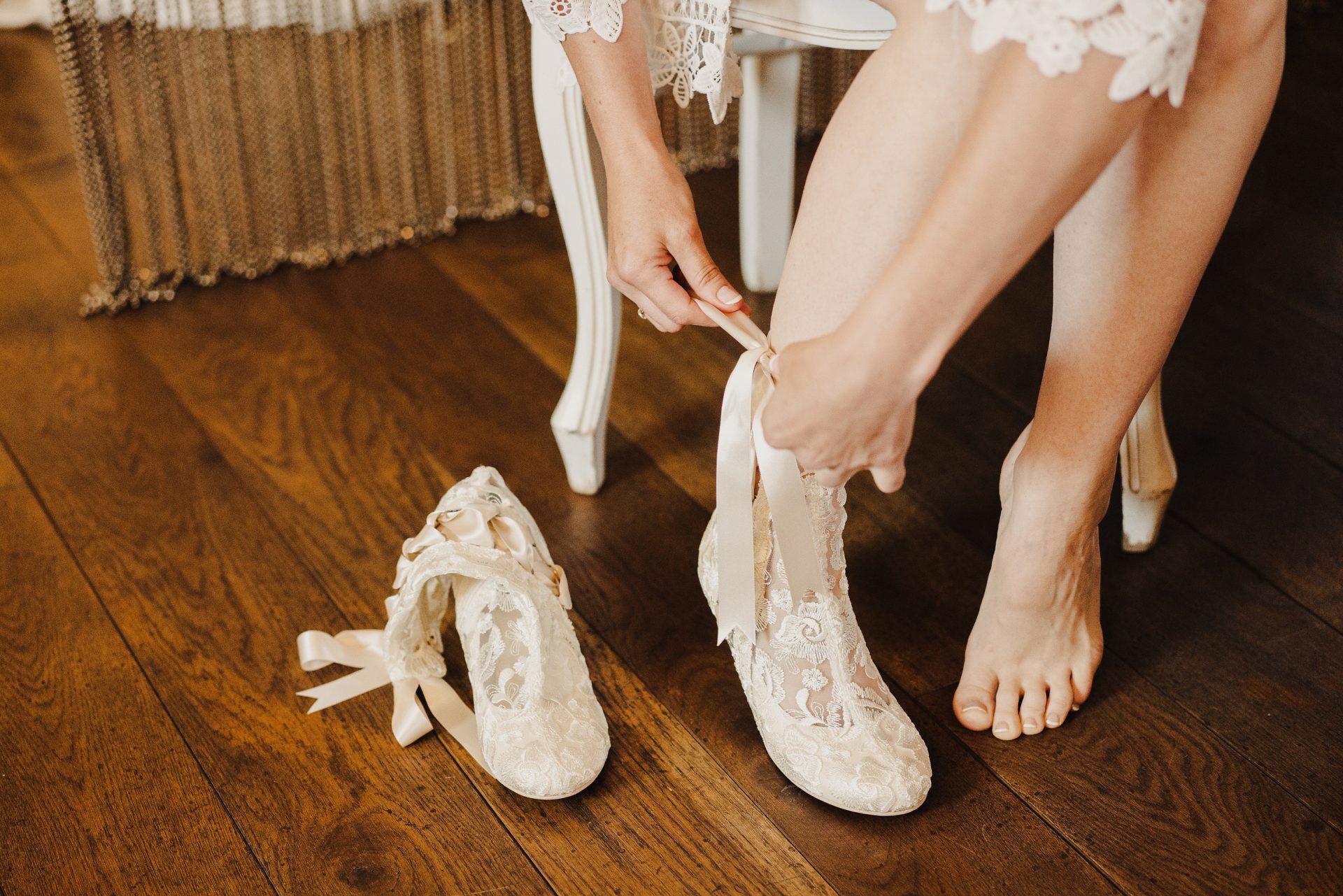 What did you love the most about your wedding day?
Despite the unpredictable Scottish weather, we had an amazing day, filled with lots of laughter. Also, it was extra special to share the day with our daughters.
What pearls of wisdom would you share with future brides who are planning their wedding?
Remember it's your day! Do what makes you (and your husband to be… of course!) happy, you're never going to please everyone.
Nicola & Scott would like to thank the following vendors for making their day special:
Venue: https://www.glenskirliehouse.com
Photographer: https://annaurban.com
Dress: https://www.junebrides.co.uk
Makeup: https://www.facebook.com/kirstenstillmakeup/
Accessories: https://www.laceandfavour.com