A Vintage Victorian Wedding – Jessie and Matt
Oh my, do we have a beautiful treat for your eyes today readers with this beautiful Victorian inspired wedding. As we slip into December, this gorgeous wedding takes us back to the summer when Bride Jessie married her husband Matt at Spruce Meadows, Calgary, Canada. Their wedding is full of beautiful vintage touches and Jessie was an absolute bombshell in a fitted Casablanca lace dress paired with her House of Elliot 'Evangeline Elliot' vintage lace boots. We are in vintage bridal heaven! And the beautiful photos by Aspen and Ash photography show not only just how gorgeous this wedding was but also how much fun the day was too (check out that awesome antique carousel). Thank you so much to Jessie and Matt for sharing their wonderful wedding story with us. We wish you much joy and happiness in this new chapter of your journey together.
Wedding Wishes & Love, Nicole xo
How did you meet your husband and how did he propose?
Matt and I met about 13 years ago at work. We lived in different cities but our paths crossed when he came to town to do some training for my staff. When we met the first time he stumbled over his words a lot and was clearly nervous haha! We didn't actually start dating until a couple of years later when we both ended up moving and living in the same place. We were together for 9 years before he proposed. When he asked me to marry him, he also had a ring for my 14 year old daughter.
Where did you get married and who did you invite?
We got married at Spruce Meadows in Calgary Alberta. It was an absolutely beautiful venue and we couldn't have asked for a more perfect day. We had about 90 guests
What was the main inspiration for your wedding?
I'm a sucker for anything vintage, antique or Victorian inspired. We chose the British House at spruce meadows for our reception because it fit so perfectly with the vintage Victorian theme. There were countless crystal chandeliers throughout the ballroom and the walls were a beautiful crisp white. I made all of my own Center pieces from items I purchased at antique stores and the table numbers were shown using antique clocks on each table.
Tell us about your wedding look
I wanted a form fitting dress with lots and lots of lace. I chose the Casablanca style 1975 in ivory. The House of Elliot boots were absolutely perfect for this dress and theme. I wanted a very romantic look so I went with braided hair down and a little bit messy.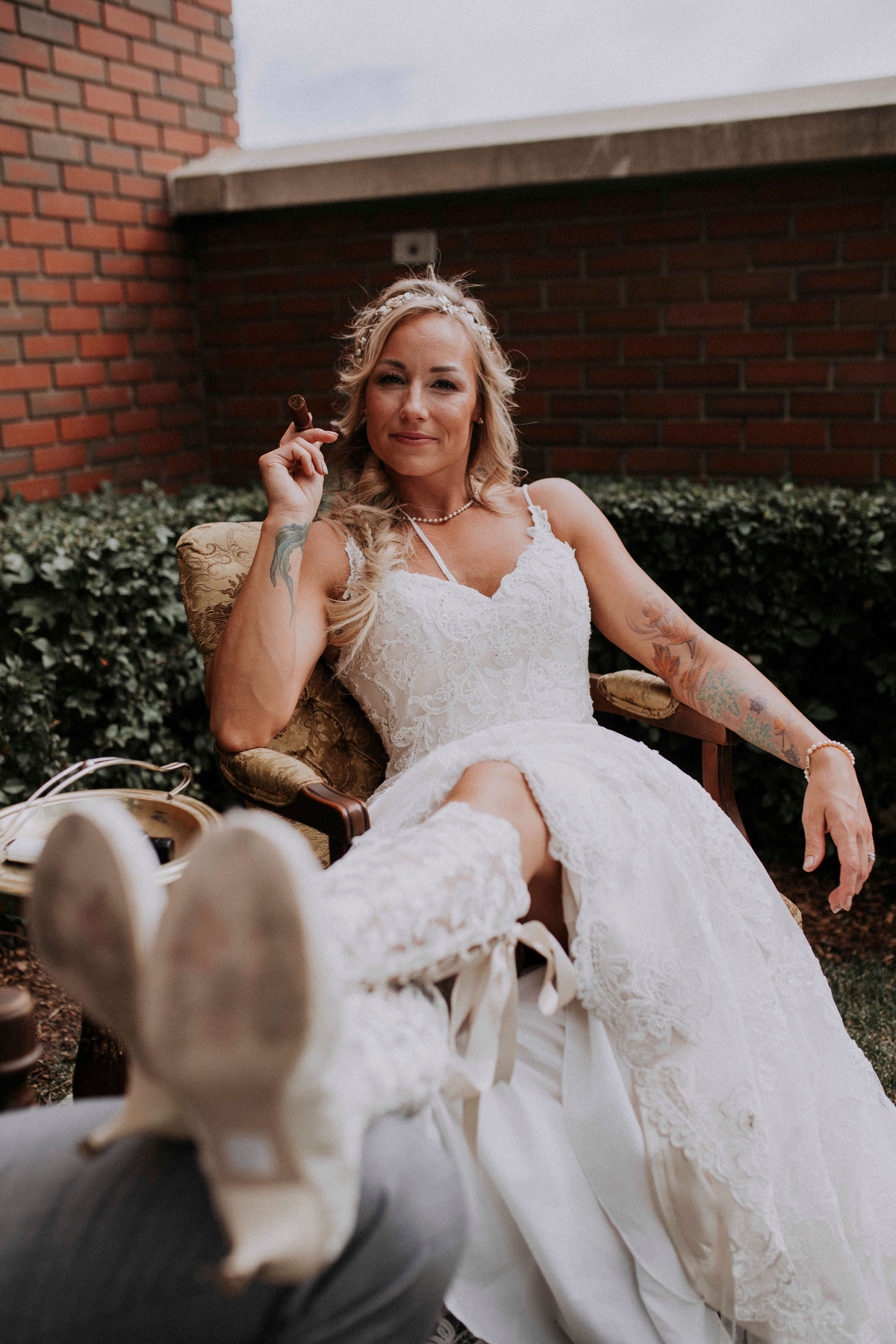 What made you choose a pair of House of Elliot boots for your wedding day?
I really wanted something unique and I saw another bride on Pinterest with these boots. I thought about it for months and tried to find something locally but every time I tried I couldn't get the House of Elliot boots out of my head. Nothing compared to these!
What did you love the most about your wedding day?
I can't honestly choose one thing. Everything was perfect and beautiful, and all of the people I love most in the world were there with me
What pearls of wisdom would you share with future brides who are planning their wedding?
It's your day, enjoy it. Don't make a big deal out of little mishaps. Things will go wrong, maybe you won't get the exact dress you wanted, or maybe your dream wedding isn't in your budget. Just remember that all you'll have when the day is over is your memories of it. Focus on enjoying the moments and don't worry about the minor details once the day arrives. Trust that no one will notice but you if something is forgotten
Jessie and Matt would like to thank all the vendors who made their day extra special!
Photography: Aspen and Ash Bride's Dress: Blissful Bridal Calgary Planner: Everlasting Impressions MUA: Michelle Carbonneau Venue: Spruce Meadows