A Magical English Christmas Wedding – Kelly & Robbie
Oh my, do I have a beautiful wedding to share with you today! It may be the middle of a sizzling British summer but for those of you planning a Christmas wedding then Kelly & Robbie's special day will be sure to have you dreaming of the magic which the festive season brings.  Set in a gorgeous barn in the Kent countryside (aptly named 'Winters Barn'!) their wedding is filled with beautiful festive inspired touches including candles, fairy lights and wonderful winter greenery.
Kelly wore an absolutely jaw-dropping champagne 'Ian Stuart' bespoke dress featuring lace, sequins (for that festive sparkle!), and a fitted bodice, and paired it with a pair of House of Elliot 'Lottie Elliot' vintage lace ankle boots.  The result? Well, you just have to look through these wonderful photos by Olly Knight Photography to see just how utterly stunning Kelly looks and how much joy and love filled their wonderful day! May we wish Kelly and Robbie every happiness and thank you so much to them for sharing their wonderful wedding story with us!
Wedding Wishes & Love as always,
Nicole xxx
So how did you meet your husband and how did he propose?
We were married a few days short of the 10th year anniversary of our first date in January 2008.  We met when Robbie project managed the move of the company I worked for in the West End of London. I headed up my department's move which meant a lot of communication between us and when Robbie returned from a trip back home from South Africa at Christmas (where he grew up from the age of 7), it wasn't long before we met up for a spontaneous first date and the rest they say is history. We actually secured our wedding venue before we were officially engaged!  We always knew we would get married one day, having started a family and bought a home together.  Robbie officially proposed at home, after he had bought the ring and after traditionally asking my Dad for his daughter's hand in marriage.  It was very special moment which we shared with our 6 year old son.
Where did you get married and who did you invite?
We were married at Winters Barns in Canterbury who describe their venue perfectly. 'There's nothing like the romance of a country barn wedding. No barns match ours for beauty, intimacy, and traditional Kentish character. With enchanting gardens and a stunning interior, Winters Barns is the perfect blend of old and new – a secluded historical venue steeped in history yet just a stone's throw from Canterbury's modern amenities'. It was a big wedding with 95 day guests and a further 30 guests joining us in the evening. Our guests were a mixture of close family and friends with lots of children. It was important to us to have children there especially as it was over the Christmas period and most guests had to travel to join us. Despite the number of guests, our wedding still felt truly intimate because of the character of this stunning venue.
What was the main inspiration for your wedding?
We both adore Christmas and as this was the season when we were married, we chose a festive and snow theme, slightly rustic with lots of candles and twinkly lights in predominantly white to keep the look festive and fresh. There were hints of navy, ivory, gold and silver in the decor too. The flowers featured seasonal Avalanche white roses, snowflake white spray roses, Dynamite eryngium thistle, Astrantia major, white double frilly lisianthus with creamy white ranunculus, together with white hypericum berries, tulips, gypsophila and lots of festive greenery. Mistletoe made an appearance in the table arrangements and above the doors of the ceremony room. We also wanted to reflect the County of Kent in our styling and we were fortunate to have the venue already tastefully decorated in hops throughout.
Tell us about your wedding look
I wanted a style that was different, almost unique, something that everyone would remember.  I had in mind a sweetheart neckline and fitted bodice with sparkly detail and a beautiful train, something which swished effortlessly when I walked.  Although I loved the look of dress when I first saw it, I was apprehensive about trying it on because of the colour, but the shade of champagne complemented my skin tone perfectly. I was completely wowed.  I was immediately drawn to the shoulder detailing, it was so unusual and wearing this off the shoulder created a flattering look for me personally.  My dress designer was awesome. Ellie from the boutique was meeting Ian Stuart at a show a few days after my fitting before the dress was ordered and in brief, Ian made my dress bespoke around the top line to fit my shape, nothing was too much trouble. My dress was a vintage gown in taffeta cangiante, the finest French lace embellished with sequins and beads with a fitted bodice, sweetheart neckline.  The mermaid skirt and train have godet panels, creating a beautiful swirling effect when walking.
What made you choose a pair of House of Elliot boots for your wedding day?
I had always like the idea of wearing boots on my wedding day after my best friend wore boots on hers. Also, when I was in my teens, I owned a pair of short soft white leather boots which I wore with shorts all summer long one year. I adored them not only because they looked amazing on, but were so comfortable too. In terms of footwear, my priority was comfort first so when I found my perfect boot on the House of Elliot website, I was over the moon.  I simply loved the beauty and uniqueness of the Lotti Elliot. They were handmade with intricate detailing. I just knew they would compliment my dress. The whole experience from choosing the right size to receiving the beautifully wrapped box was so enjoyable. Nicole simply rocks the customer service world.
What did you love the most about your wedding day?
It really is difficult to pin point one particular thing because we both felt that the whole day was truly magical and very very special. However, there were a few moments that will always stay with me. Slipping into my dress and boots once my hair and make up was complete and seeing my parents, page boys, flower girls and bridesmaids dressed up and ready together. I was truly overwhelmed with how wonderful everyone looked. The few seconds before walking up the aisle and the amazing feeling it was making that walk. I had always been emotional about this part of the wedding at anyone else's and when planning my own. I surprised myself because I felt so calm despite seeing my husband so emotional. Once we were married and sat down to sign the register, our son Olly stood up and proudly announced how happy he was for us. He came over and joined us and some of our favourite photos of the day were taken at this point. And watching our son and niece (both 6) give a Winnie the Pooh reading in our ceremony in front of all of the guests. It was really so sweet, they were so brave to do this.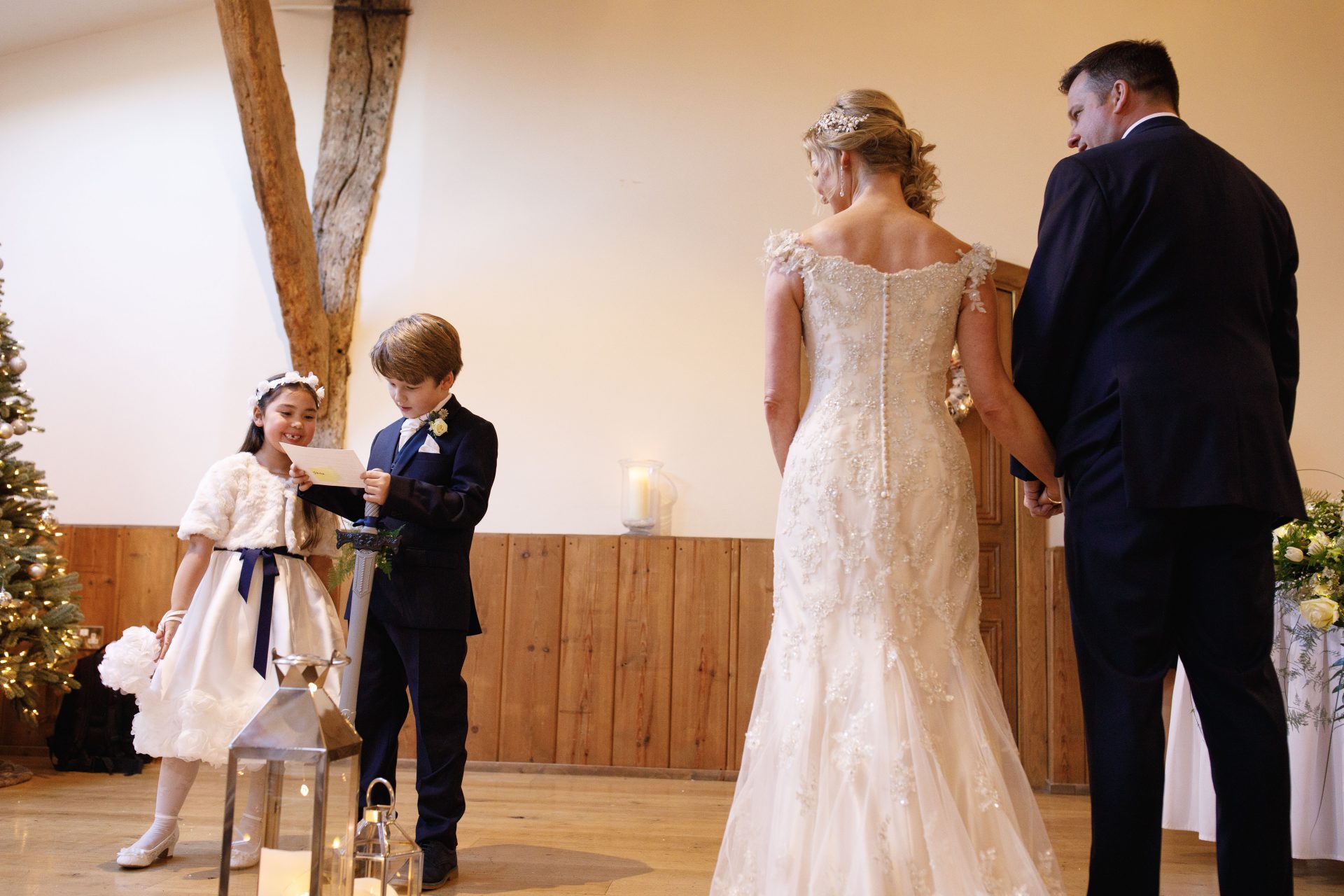 What pearls of wisdom would you share with future brides who are planning their wedding?
Try not to take too much on your yourself. I did and found myself setting up in the venue on my wedding morning when I should have been enjoying this time with my bridal party. Also, try to have a ceremony practice run instead of just giving instructions beforehand. I found my whole bridal party already seated when I reached the alter with no one to take my bouquet or help settle my dress (train).  And finally, simply relax and enjoy every minute the day.
Anything else you would like to add?
I wore my Lotti Elliot's for almost 12 hours and they really were so comfortable. Take all the advice the team at your venue give, it is their job and they know what works. Make sure you give a date for your invitation RSVP's and chase these up. Sometimes people assume you know they're coming, but often the invitation requires dietary requirement and meal choices and so much more.